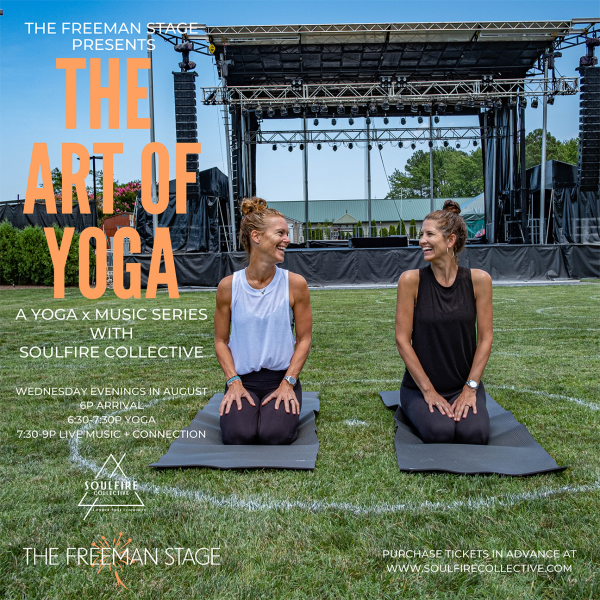 At a time when pandemic-weary people are looking for outdoor activities for everything from dining and entertainment to exercise and social interaction, The Freeman Stage saw an opportunity to put its 2,400-square-foot lawn to use for an arts-related collaboration on non-performance nights.
They found a perfect fit with SoulFire Collective, a popular yoga studio located in Rehoboth Beach. "The Art of Yoga" will be offered each Wednesday evening in August and will feature 60 minutes of yoga instruction followed by live music and refreshments on the lawn at The Freeman Stage.
"We were already big fans of SoulFire Collective and thought of them immediately when we come up with the idea," said Michelle Freeman, Chairman and President of the Joshua M. Freeman Foundation which runs The Freeman Stage. SoulFire Collective owners Kat and Brooke Wyman were already conducting classes on the beach, and at other outdoor venues like Good Earth Market and Salted Vines Vineyard. The chance to offer another outdoor experience to their loyal group of yoga enthusiasts was an easy yes, said Brooke Wyman. "Their lawn is perfect, since it is so large and already set up with 'seating pods' with six feet of physical distance from each other. The fact that they could accommodate live music and offer food and beverages after class made it an ideal space for us."
The series kicked off Wednesday, Aug. 5, and continue weekly through the end of the month. Doors will open at 6 p.m., with class scheduled from 6:30-7:30 p.m. and light refreshments set to live music from 7:30 to 8:30. Local band Hot Sauce is set to bring their spicy Latin sound to the occasion on Aug. 5. Tickets are $25 per person and can be purchased at freemanstage.org or soulfirecollective.com. Participants will be required to wear a mask when entering and exiting and while moving around the venue. Masks can be removed once inside a pod; up to three individuals can choose to practice within a single 8-foot pod.
SoulFire was recently awarded best yoga studio and best yoga instructor (Brooke Wyman) in Sussex County, by Coastal Style Magazine. Since March of this year Kat and Brooke have stayed agile and committed to keeping their community connected through virtual classes, book clubs and workshops, and outdoor classes on the beach and throughout the area. More recently, they launched an entire digital studio, complete with daily livestream classes and on demand classes that last from 20 to 75 minutes, and in styles such as yin, meditation, power flow, slow flow, and yoga sculpt. For more information, visit www.soulfirecollective.com or on Instagram @soulfirecollective.