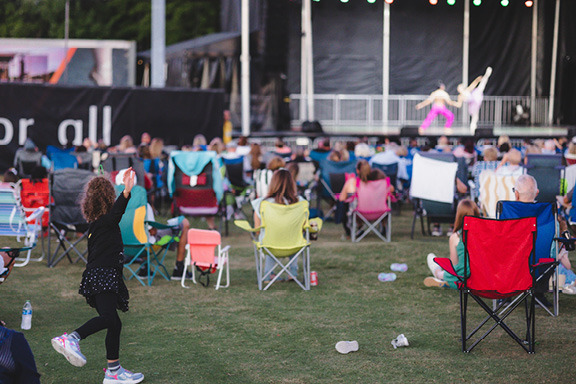 Freeman Arts Pavilion wrapped up its 15th season celebrating a milestone: more than 92,000 guests enjoyed the arts in their backyard.
Freeman Arts, a program of the Joshua M. Freeman Foundation, is a leading arts nonprofit on Delmarva, and the 3rd largest arts nonprofit in Delaware. In addition to presenting more than 65 arts performances each summer, Freeman Arts also provides arts education opportunities to students in Sussex County and Worcester and Wicomico counties. By December of 2022, the foundation will have provided free arts education to over 23,000 students across those three counties.
From humble beginnings as an organization created to bring joy from grief, Freeman Arts has made significant strides over the last 15 years, with the 2022 season bringing massive star power to the stage. Artists like Bonnie Raitt, Jackson Browne, Wynton Marsalis, Cole Swindell, Brothers Osborne, Patti LaBelle, and Elvis Costello brought new faces and cheering fans to our hidden gem of an arts venue in Sussex County. While there was no shortage of icons to behold, what makes our venue stand out from other performance venues is our commitment to support arts access, with culturally diverse arts experiences and over 30% of performances being free to the public. Guests were able to enjoy music such as zydeco, Latin pop, choral, jazz, orchestra, a cappella and more, as well as ballet, comedy and children's theatre all at no cost.
Freeman Arts Pavilion is a place for everyone. Our purpose is to create opportunities to elevate the human spirit. There's nothing quite like a crowd singing in unison to their favorite artist, or the spirit of a young child when enjoying ballet for the first time. It truly is magic.
Magic indeed. Not only are the experiences of guests filled with joy, but the energy and feeling of belonging surrounding every performance is undeniable. From guests' first steps into the venue through their final wave goodbye as they venture home, they are welcomed and celebrated by our more than 400 staff and volunteers who bring the magic to life. This summer, over 15,000 hours of volunteer time was clocked by a devoted team of over 300 volunteers. They are comprised of community members, local business owners, parents, grandparents, friends, students and so many more who believe in our mission and find passion in bringing joy while serving others. In fact, the dedication and impact of this group earned them the prestigious title of Group of the Year for the 2021 Governor's Outstanding Volunteer Service Awards. They even claimed the titles for Individual Volunteer and Volunteer Leader.
So what is the driving force behind all of the magic? Simple: gratitude.
Our organization could not and would not be celebrating its 15th anniversary without the amazing dedication of our volunteers, local businesses and their partnerships with us, the 300 sponsors who continue to support our mission, a passionate and driven staff, and of course, nearly 750,000 patrons who have supported us over the last 15 years. We are so grateful for the unwavering support from our patrons and sponsors year over year as we further our mission to present live arts experiences for all to enjoy.
While we share in the magic and memories our patrons experience at our venue, we also celebrate our significant impact on the communities at large. The arts not only increase the quality of life for residents and visitors but it's also an economic engine for the region. During the last 15 years, we contributed over $110 million in economic impact to the Delmarva region.
As we look to the future, and how we can grow arts access for all, we are thrilled to be planning for the 2023 season. We will return to in-person programming at area schools for the 2022-23 school year with more arts education opportunities for students in pre-k through grade 12. Our Arts Education program will feature a variety of initiatives while also incorporating important curriculum, including history, physical education, language and more. Next summer's Freeman Arts Pavilion lineup will arrive in early 2023, with the ongoing commitment to providing arts access opportunities for all sprinkled with magic moments from the community coming together for a night of live arts performances under the stars.
Patti Grimes
Executive Director
Joshua M. Freeman Foundation