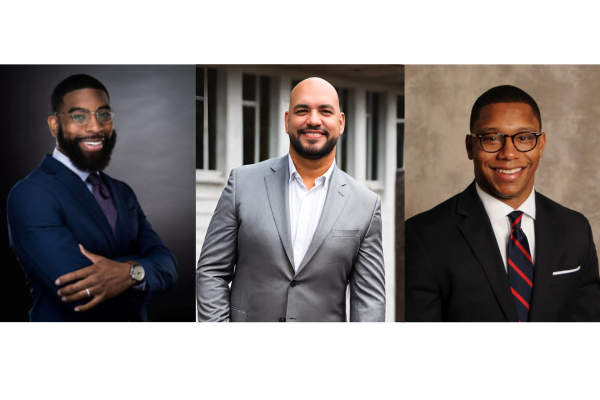 Joshua M. Freeman Foundation recently announced the addition of three new members of its Board of Directors.


The Foundation, the nonprofit behind the Freeman Arts Pavilion in Selbyville — welcomed Jeff Tribble, Dennis Diaz and Eli Modlin. Tribble, Diaz and Modlin join the established Board of Directors and act as fiduciaries to guide the Foundation and its mission toward sustainability while maintaining best practices in governance and financial management.


"I am delighted to have these incredible individuals join our Board of Directors. We know it takes widespread support, innovative thinking, and creativity to help build an arts movement," said Michelle Freeman, chairwoman and president. "Collectively their experience and skills along with their passion for the arts, and personal mission to serve others will make a direct impact on our organization, and our mission of advancing arts access for all."


Tribble is the President and CEO of Levine Music, a 47-year-old music education institution with six campuses across DC, Maryland, and Virginia. After graduating magna cum laude from Howard University, Jeffery was accepted to The George Washington University Law School, where he received his Juris Doctorate in 2011. While in law school, he founded The MusicianShip, a nonprofit organization that facilitates music lessons, experiences, and opportunities to benefit those who need it most. He currently sits on the Board of Governors for The Recording Academy's Washington DC, Chapter, is an Honorary Trustee for the Washington National Opera, and is Board Co-Chair for Equity Arc, a national organization that levels the playing for BIPOC classical musicians. Additionally, he is a member of Leadership Greater Washington's Class of 2023.


Tribble said the nonprofit's mission of advancing arts access for all resonated with him as someone who not only has professionally dedicated his life to arts education, but also as a beneficiary of arts education.


"Research demonstrates the positive impact the arts can have on people's lives," he said, adding everyone deserves access. "Beyond the many non-arts outcomes that come from exposure … art in and of itself is fun and a source of joy. As the world faces a myriad of challenges, we could all use an increased dose of joy!"


Dennis Diaz is an energetic and innovative entrepreneur passionate about helping people in underserved communities. He is the founder of SPYNR, a digital marketing company seeking to revolutionize the way commercial laundromats operate in their communities, and currently serves as Executive Marketing Director for EVI Industries. Diaz's dedication to the laundry sector has earned him a spot on both the National Board of Directors for the Coin Laundry Association and LaundryCares Foundation, affording him a unique opportunity to promote literacy in laundromats throughout America.


While Diaz serves on the boards of other nonprofit organizations, he felt his passion for service was incomplete without the addition of the arts. Growing up as a Puerto Rican child in the South Bronx, N.Y., he was immersed in the vibrant culture of music, he said.


"The arts, with their universal language, have the power to unite people from all walks of life," he said. "(Freeman Arts) stands out as a beacon of inclusivity, going beyond the confines of its stage to bring the arts to those who may not otherwise have access. It is truly gratifying to know (it) allows so many individuals to explore the transformative power of the arts."


Modlin is the Chief of Staff and Vice President of Public Affairs & Strategic Initiatives of Salisbury University. He serves as Deputy Chief of Staff and Director of Government and Community Relations since February 2017 and held the position in an interim capacity since December 2016. Prior to joining Salisbury University, Modlin served as the Public Affairs Office for the Comptroller of Maryland as well as the special liaison officer for the Comptroller in Baltimore City, Baltimore, Howard and Wicomico counties. Beyond the University, Modlin serves on the Board of Leadership Maryland, a statewide leadership program that aligns public and private sector professionals to build a better Maryland. He also serves on the Salisbury Area Chamber of Commerce Board of Directors and is a member of the National Folk Festival Executive Committee.


"The (Joshua M.) Freeman Foundation recognizes how the arts enrich our lives and build a sense of community," he said, adding the passion of the organization and its Board is contagious. "A critical part of the mission is to break down the barriers to access so that young people, in particular, can experience various forms of art. I am excited to be a small part of such a wonderful organization."