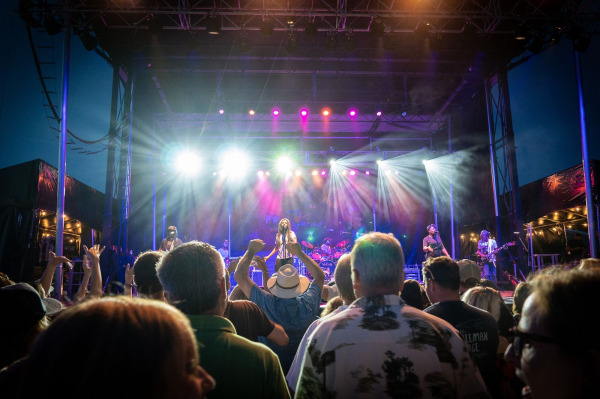 In just 11 years in the community, the Freeman Stage at Bayside is looking to expand yet again.
Patti Grimes, executive director of the Joshua M. Freeman Foundation told the Sussex County Council on Tuesday, Nov. 13, that its current stage — the second iteration of an arts hub in West Fenwick — will continue to grow.
"Our mission remains the heart of our programming," she said. "Our mission is partnering to present memorable performances and inspired arts education for all."
Grimes said Delaware residents and guests alike are welcome at the stage, where they also continue to grow in the diversity of programs offered.
"Over 11 years, we have served over a half a million people in this county — 406,000 at the Freeman Stage and 101,000 children in Sussex County schools," she said, noting, "Sussex County was an arts desert" prior to the stage, but the venue is now "busting at the seams."
"We have put Sussex County on the map as a place where everyone can come and enjoy the arts," Grimes said. "We are now the third-largest arts organization in the state of Delaware, in just 11 years."
In 2008, the Freeman Stage had 13,500 people visit the stage. This past season, the stage saw 58,000 visitors, and, Grimes noted, "1,100 of those guests were disadvantaged family and children who may not otherwise be able to enjoy the arts."
Grimes said 40 percent of the programming at the stage is free, making arts accessible to everyone. And its geographic reach and staff are growing, too, as "36 out of 50 states were represented this season at the Stage, and we employ 12 full-time folks, and a seasonal staff of 32 folks," she noted.
Grimes said the Stage brought more than $3 million dollars back into the county this year.
"Over the last 11 years, on a very conservative measure, over $30 million has come into this economy as a result of the Freeman Stage and its arts performances."
The Freeman Foundation, said Grimes, has a strategy to provide, at no cost, at least four arts education experiences each year to the children or schools throughout the county's school districts. All of that programming is tied to curriculum standards and is free to the students and schools, including artist fees, study guides and transportation.
"What we are seeing as trends — the Department of Education tells us that poverty levels continue to rise, especially in the elementary schools in this county. English-language learners continue to rise as well. So, a lot of our programs are really guided toward those children."
Grimes noted that the foundation collaborates with local arts organizations, including Clear Space Theatre; non-profits, such as Big Brothers Big Sisters, Clothing Our Kids, Easter Seals, Immanuel Shelter, People's Place; area businesses, such as Coastal Tented Events, Eastern Shore Porch & Patio, Mid-South Audio, Sposato Landscaping Co.; and tourism partners Dogfish Head Brewery, Jolly Trolly Transportation and SoDel Concepts.
With the non-profit continuing to grow, Grimes said the physical stage will, too.
"We have run out of space," she said. "Our plan is to continue to create an adjacent venue of 4,000 seats; 850 will be covered seats, so when we have rainy days like today, the show can go on.
"We believe that will be able to increase our capacity of about 58,000 people, to 70,000 people a year."
The new facility will be located on 3.4 acres, adjacent to water and woods. Grimes said it will provide state-of-the-art lighting and sound, and an expanded concession and dining area.
"We will also be able to have a larger stage, which will accommodate larger acts and bring quality arts here to Sussex County."
Outgoing County Councilman Rob Arlett said the foundation is one of the best organizations and investments in the county, adding that he feels it is "embarrassing" that the County only contributes $10,000 annually to the foundation's $4.7 million yearly budget.
"You are truly an inspiration," said Arlett. "Thank you for the impact you have on this community. You are a blessing."
To view original article, please visit the Coastal Point.