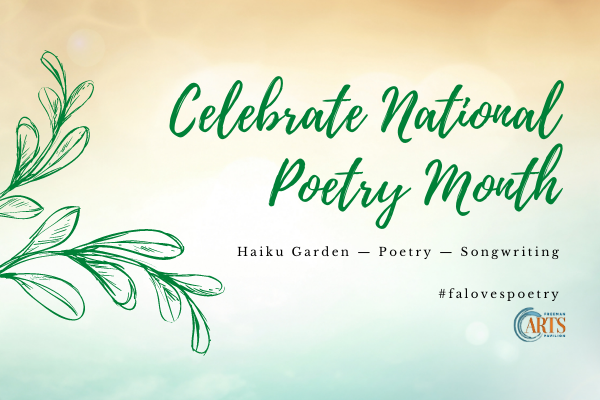 To celebrate national poetry month, Freeman Arts Pavilion will host a free series of poetry workshops and events through the month of April.
Freeman Arts — a program of the Joshua M. Freeman Foundation, an arts nonprofit located in Selbyville — partnered with BLW "Babs" McGrory, a past Beat Poet Laureate of Delaware, to create five poetry events that will take place on Sundays in April. The events will be held outside at the nonprofit's office building in the Bayside community.
Since 2017, Freeman Arts has presented a Poetry Program as part of its Arts in Education Initiative to support and promote the state's Poetry Out Loud. The program includes a poetry presentation by a commissioned poet, a voice and movement workshop as well as a writing workshop for high-school students. Due to the pandemic, in-person arts experiences were not possible, the nonprofit re-imagined its approach to poetry in 2021.
The first event is a self-guided Haiku Garden, which will be open to the public every day in April, will feature nine large stones displaying a variety of haikus for patrons to explore and learn about the art of haiku. The second event, called "Haiku Rocks," is a workshop led by McGrory on Sunday, April 10. Participants will be a crash-course on the fundamentals of haiku and create a haiku rock to place in the Haiku Garden or take home
On April 17, in celebration of Earth Day, the participants will discover the finer points of writing a poem in response to art. This workshop, called "The Art of Poetry," will be led by Tara Eliot — the president of the Eastern Shore Writers Association and previous partner in Freeman Arts' Poetry Program. The next workshop, called "Grow Your 'Poetree' — A Nod to Arbor Day," will take place on April 24. Participants will be led through a time-limit free-write experience that will stretch their creative muscle, invoke new sources of inspiration and help overcome writers' block. In celebration of Arbor Day, participants will also take home a sapling to plant.
The final event is a songwriting and collaboration workshop, which will take place on May 1. This workshop is a behind-the lyrics look at songwriting. Local musicians Bryan Russo, Danielle Furst and Zander Jett will collaborate with attendees to create a one-of-a-kind song.
All workshops will begin at 2 p.m. and materials will be provided. Participants must bring their own chair and wear a mask. For more information, visit freemanarts.org.
Freeman Arts Pavilion, which is located 4 miles west of Fenwick Island, Delaware, is a program of the Joshua M. Freeman Foundation, which creates opportunities that elevate the human spirit. This program is made possible, in part, by a grant from the Delaware Division of the Arts, a state agency dedicated to nurturing and supporting the arts in Delaware, in partnership with the National Endowment for the Arts. The Division promotes Delaware arts events on www.DelawareScene.com. For more information, visit freemanarts.org.