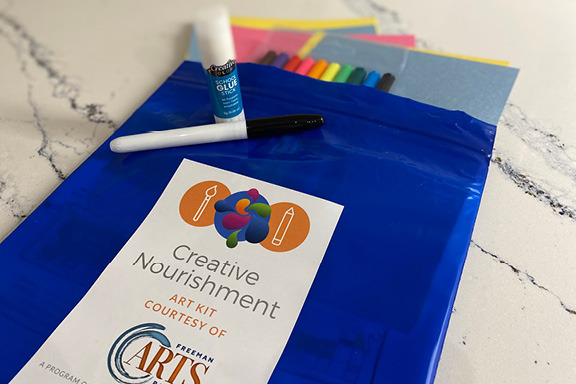 Freeman Arts Pavilion has expanded its Creative Nourishment Kits Initiative in a partnership with the Food Bank of Delaware.
Freeman Arts — a program of the Joshua M. Freeman Foundation, a fundraising arts nonprofit located in Selbyville — launched the Creative Nourishment Kits initiative earlier this year in an effort to fill the void of arts education programs as teachers and parents continue to face the demands of remote and hybrid learning.
The nonprofit commissioned local artist John Donato to create step-by-step instructional worksheets for the innovative visual arts project. The kits are uniquely created for four grade-level clusters — K-2, 3-5, 6-8 and 9-12 — and are aligned with the curriculum.
In its partnership with the Food Bank, the Creative Nourishment Kits will be distributed through the Food Bank's Backpack Program. The backpack program provides food year-round to children in need for weekends and holidays when school is not in session and federal school meal programs are not available, according to the Food Bank's website.
According to American for the Arts, students who are highly engaged in the arts are twice as likely to graduate college than their peers with no arts education, said Patti Grimes, Freeman Arts executive director.
"We are thrilled to partner with the Food Bank of Delaware for our Creative Nourishment Kit Initiative because providing a variety of arts opportunities to local students, especially this year, is vital to their educational growth," she said.
More than 1,200 kits — which will include kits for elementary and middle school students — will be distributed in March, April and May, totaling 3,840, and will be different art projects each month. To personalize the kits distributed to recipients of the backpack program, Freeman Arts staff and family members wrote encouraging messages to include in each kit.
With the addition of the Food Bank partnership, Freeman Arts Creative Nourishment Kits initiative will impact more than 25,000 students in Sussex and Kent counties.